Our Blooming Marvellous 2019 Sunflower Challenge!
Order your GIANT sunflower seeds online to take part in our annual, fun,  family-friendly Blooming Marvellous Sunflower Challenge. Kicking off on Heart Failure Awareness Week (May 6th to 12th 2019) to August 26th [August Bank Holiday Monday], we challenge the nation to see who can grow the tallest sunflower while helping to sow Heart Failure Awareness, for your chance to win  marvellous gardening goodies and the Blooming Marvellous Champion 2019 title!
Click here for more information and T&Cs>
PLEASE ORDER YOUR #BLOOMINGMARVELLOUS19 SUNFLOWER CHALLENGE SEED PACKS BY CLICKING HERE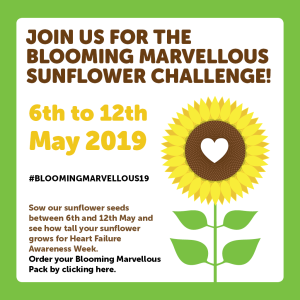 *****
SOWING SEEDS OF HEART FAILURE AWARENESS – MAY 6th-12th – HEART FAILURE AWARENESS WEEK
HOW TALL WILL YOU GROW?
Marvellous GIANT Sunflower Seed Packs will be sent out from 9th April.
**SUBMIT YOUR MEASUREMENTS BY THE END OF AUGUST 26TH 2019**

More information:
WHO WILL GROW THE TALLEST SUNFLOWER FOR HEART FAILURE AWARENESS?
Gardeners and gardens, including hospitals wards, up and down the country are getting ready to sow seeds for heart failure awareness, during Heart Failure Awareness Week, and grow something beautiful. We hope you will take part too, and invite your friends and colleagues.
ALL YOU NEED TO IS:
– Register your entry, using the form or details in your Sunflower Challenge pack
– Sow your sunflower seeds between May 6th and 12th  2019.
Heart Failure Awareness Week. Take a photo and share using the hashtag #BloomingMarvellous19
– Shower your plants with love and tender care! Keep us posted!
– Email Us to submit your final heights and Sunflower Challenge pics
– Measure the final size of your sunflowers on or before the 26th Aug 2019 and email the results to sunflower@pumpingmarvellous.org, with a photo, and share with us on social media for the chance to win a marvellous prize
– The winner will be announced in early September.
GOOD LUCK TO ALL OUR HAPPY AWARENESS GROWERS!