Innovation in

Heart Failure
Innovation in Heart Failure is about moving forward, maintaining momentum in the development of new therapies to help people live their life as best they can. As Heart Failure is a complex condition innovation can appear in many ways.
Innovation maybe:-
Pharmaceutical innovation – drugs
Medical Technology innovation – engineering
Digital innovation – how we may use technology to improve our understanding or maybe monitoring of people with heart failure

Innovation to access of knowledge and learning – as our lives become centric around wearable tech and smartphones how does information flow to patients and doctors. How to use this to make the conversations meaningful and seamless?
Innovation in health demonstrates an inexhaustible list of progression. The above are just examples of where progression will make a big difference. It could be as simple as ensuring patients are sent home from hospital with appropriate knowledge around their condition. This enables them to take their first steps into managing their own condition. We know it should be done but it doesn't happen consistently. The first person to enable appropriate discharge support for all heart failure patients will be an innovator, never mind a pioneer.
Innovation is often very much misunderstood in health so here's the definition.
"To introduce something new"
The important phrase is "introducing" as it will have already been "invented"
Below you will find a list of innovative ways of making the lives of people living with heart failure better. We will be adding to this page as we learn about innovation so keep popping back here once a month to see what we've found.
Become part of the patient Heart Failure Community
Drug Innovation
Sacubitril Valsartan (Brand Name Entresto)
Sacubitril/valsartan Entresto has recently been granted approval by both NICE (National Institute Health and Clinical Effectiveness) and the SMC (Scottish Medicine Agency).
Medical Technology Innovation
CardioMEMS
CardioMEMS Device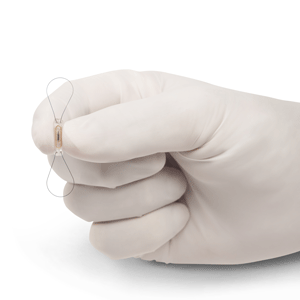 Relative size of CardioMEMS device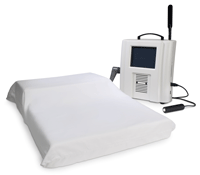 CardioMEMS device pillow
From the News Pages
Keep in touch with what is going on around the world in heart failure. Keep up to date with the latest activity at the Pumping Marvellous Foundation
Medical Technology Innovation
Mitra Clip
What is a Mitra Clip?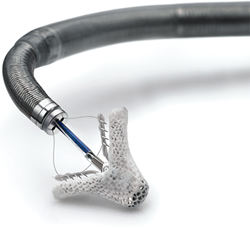 Mitra Clip
Watch the Mitra Clip procedure