First UK patients receive microchip implant to monitor heart failure condition
A revolutionary microchip implant that measures how well a patient's heart is functioning has been inserted for the first time in the UK by cardiologists at Royal Brompton Hospital.
In the last two months, seven patients with chronic heart failure have had the miniature wireless sensor (microchip implant) inserted into their pulmonary artery (the main blood vessel carrying blood from the heart to the lungs). The device alerts doctors remotely to any decline in their condition, even before they experience symptoms.
The sensor, known as the CardioMEMS™ HF System, is implanted during a minimally invasive procedure using a cardiac catheter, a thin tube that is passed up to the heart through a vein in the leg. (See Sky News.)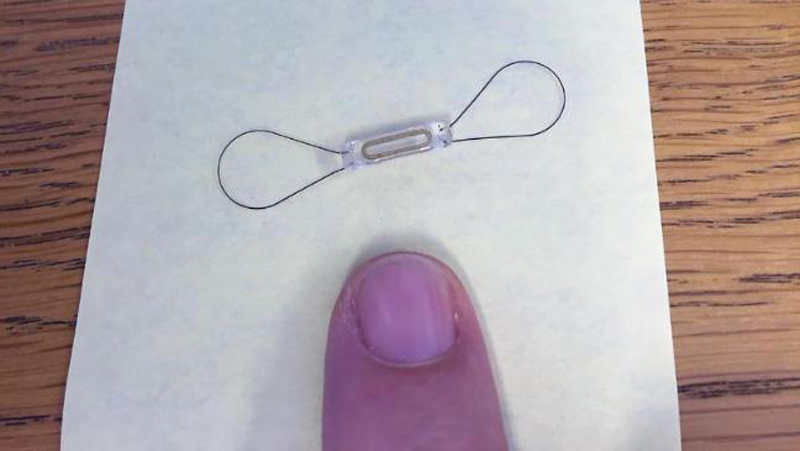 Once in place, the device – which has no battery or replaceable parts – enables remote monitoring of changes in blood pressure in the pulmonary artery, which is a good indicator of worsening heart failure because the condition causes pressure within the heart, and in turn the pulmonary artery, to rise.
Each day patients lie on a specially adapted pillow for a few minutes. The pillow receives data wirelessly from the implanted sensor and is connected to a monitor that sends the readings directly to the patient's doctors. The hospital heart failure team then analyse the readings and determine if they need to adjust treatment. This is likely to be before the patient experiences any symptoms and can prevent a potentially life threatening deterioration.
With around 900,000 people living with heart failure in the UK, cardiologists hope the device will have the potential to improve management and treatment for many patients.
In 2011, results from a randomised controlled trial in the United States, which were published in the Lancet, showed the sensor reduced hospital admissions by an average of 30 per cent after six months, compared with a control group.
Professor Martin Cowie, consultant cardiologist at Royal Brompton & Harefield NHS Foundation Trust, said:
"This device has the potential to revolutionise the care of heart failure patients.   By detecting any deterioration in heart function at a much earlier stage and    changing treatment accordingly, we should be able to prevent significant     numbers of hospital admissions and improve the quality of life for many thousands of people with the condition.
"Up until now, monitoring has taken place during regular clinical appointments, or at a patient's request after he or she has experienced a worsening of symptoms, such as increased breathlessness or fatigue.
"With this device patients can send regular information back to their heart failure team easily and from the comfort of their own home. This will help us detect any worsening in cardiac function early and take steps to prevent it, before patients experience a decline in their health. "It will also provide a better way of deciding whether patients are having the best treatment, allowing us to take a more tailored approach for each individual patient."
Reg Youngman, 76, from Chorleywood, Hertfordshire, was one of the first heart failure patients to have the CardioMEMS device at Royal Brompton Hospital.
After living with heart problems since childhood, Mr Youngman was diagnosed with heart failure as an adult. In 1998 he had mitral valve replacement surgery and two years later received a pacemaker at Harefield Hospital.
In the last 12 months, Mr Youngman's worsening condition has resulted in him being admitted to hospital, or attending outpatient appointments, on almost 40 occasions.
"Harefield is a fantastic hospital and I've been looked after really well there        for a long time. I've had so many problems recently though, so when I was     told about this new device I thought, 'if it might help, I'm all for it'.
"It's amazing to think that if anything is going wrong with my heart, my doctors at Harefield will know before I do. I'm hoping it will mean they're    able to spot problems really early, before I'm rushed into hospital as an    emergency for three weeks at a time, as has been the case in the past few       years."
Retired civil servant, Philip Scott, 84, from Sunbury-on-Thames, Surrey, was also among the first group of patients to have the CardioMEMS implanted. Married with two children and four grandchildren, Mr Scott has always enjoyed an active life, living and travelling all over the world before retiring from HM Overseas Civil Service in 1992.
Diagnosed with heart failure in 2014, Mr Scott was referred to Royal Brompton Hospital and received an implantable cardioverter defibrillator (ICD) in February this year. His cardiologist recommended he consider also having the CardioMEMS fitted to monitor his heart failure remotely.
"My hope is that by having the device it will mean I don't have to visit     hospital as frequently as I need to at present. My family thinks it's wonderful             and we consider it a great privilege that I'm one of the first patients in the UK            to have it."
The procedure to implant the novel CardioMEMS device was carried out by leading cardiologists, Dr Mark Mason and Dr Rakesh Sharma, in a cardiac catheter lab. The patients did not require sedation for the half hour procedure and were able to be discharged from hospital the next day.