Breakthrough smart wireless cardiac pacing implant design to treat heart failure receives CE mark approval
The world's first wireless cardiac pacing system for heart failure has achieved European CE mark approval. The WiSE™ (wireless stimulation endocardially) technology has been developed by EBR Systems, in collaboration with product design and development firm Cambridge Consultants. The groundbreaking technology could benefit 1.5 million heart failure patients worldwide.
WiSE is the only wireless endocardial pacing system for cardiac resynchronisation therapy (CRT) – a treatment for heart failure that uses an implantable pacemaker to improve the heart's pumping efficiency by synchronising the left and right ventricles. Studies have demonstrated that successful CRT reduces heart failure symptoms, hospitalisation and mortality.
Conventional CRT devices use wires to deliver pacing pulses to the left ventricle. But these wires can break or otherwise fail – leading to complications in roughly 5-10% of cases. In addition, about 30% of patients do not respond to conventional CRT. Data suggests this is largely due to limitations on where current, approved leads can be placed in the heart's venous anatomy to stimulate the left ventricle. It means more than $1 billion out of the $3.5 billion spent annually on CRT devices provides no patient benefit.
The WiSE system consists of a tiny electrode implanted in the left ventricle. With every heartbeat, it receives a synchronised ultrasound signal from a small transmitter placed between two ribs. The sounds waves are converted to electrical energy, providing cardiac pacing. The technology eliminates the need for a left ventricular lead and is designed to let the doctor place the stimulation point at an optimal, patient-specific location inside the left ventricle – which could potentially be more effective.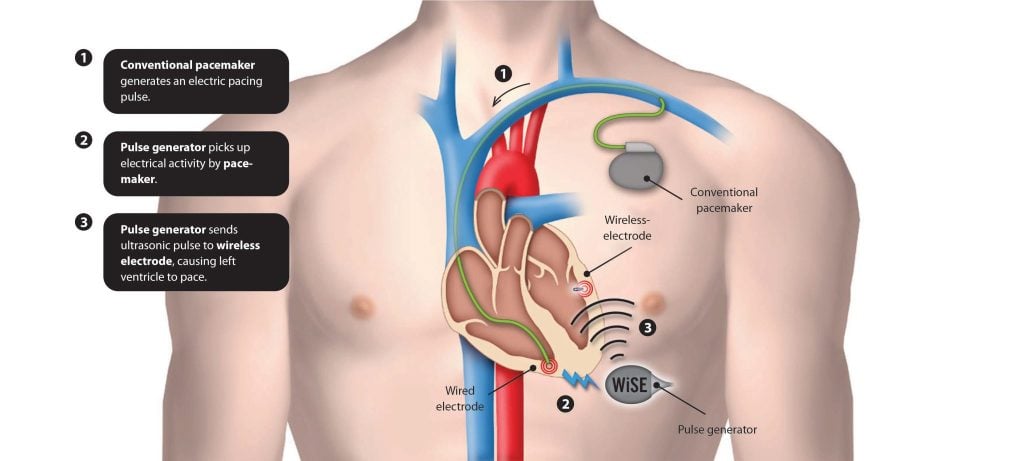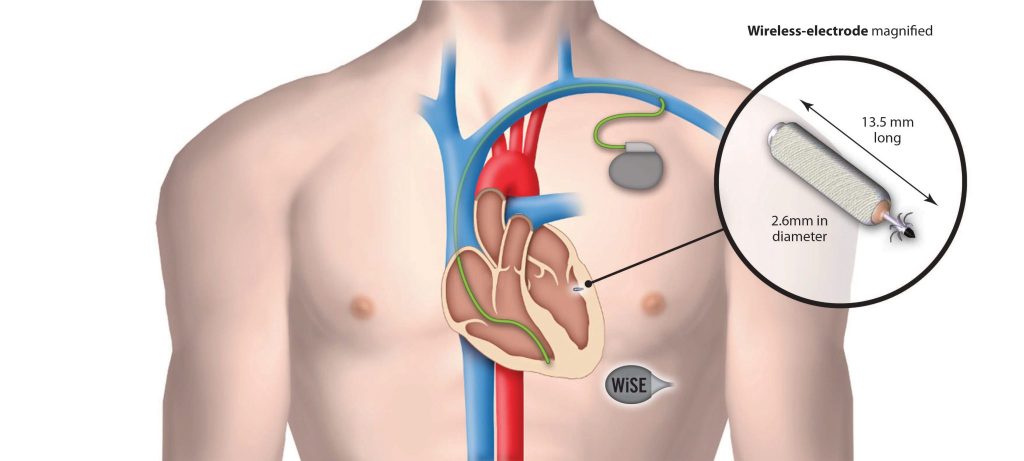 Cambridge Consultants used its expertise in integrated circuit design and signal processing to create two state-of-the-art, mixed-signal, application-specific integrated circuits (ASICs) – managed by its powerful XAP4 processor – to form the core of the WiSE system. The circuits interface with the ultrasonic transducers and heart-monitoring sensors.
"Power consumption, size and safety are critical when it comes to pacemaker technology so we faced a complex challenge," said Simon Karger, head of surgical and interventional products at Cambridge Consultants. "During the development we created a full system hardware emulator of the final ASICs so that the other system elements and the software could be designed and fully tested more than a year before prototype ASICs were available. This approach dramatically reduced the overall time of the development."
In a US trial earlier this year involving 35 patients who had failed to respond to conventional CRT, 97% were implanted successfully with the WiSE technology. Preliminary results indicate that 26 of the patients have successfully passed the six-month mark, with 81% improving their clinical composite score – a measure of symptom improvement. The remaining nine patients have not yet reached the six-month follow-up stage.
The CE mark approval means EBR Systems can now train European Union (EU) doctors to use the WiSE system – enabling more patients to benefit from the innovative therapy. The mark is awarded when a product complies with all relevant EU legislation – for example, health and safety requirements. EBR plans to work with leading European clinicians over the next 12 months to assess different strategies for optimising endocardial pacing locations that maximise CRT benefits.
"A growing body of evidence strongly suggests EBR's WiSE technology can benefit patients who have failed to respond to conventional cardiac resychronisation implants," said Allan Will, CEO of EBR Systems. "This unique technology represents a huge breakthrough in cardiac pacing therapy – which was why we chose to work with the world-class smart implant design skills of Cambridge Consultants to make it a reality in record time."
For more information visit Cambridge Consultants website.